Online Holiday Scams On The Rise, Here's How To Avoid
Every year, thousands of people become victims of holiday scams. Scammers can rob you of hard-earned money, personal information, and worst casescenario, your identity.
The scary truth is, nearly 75% of Americans experienced at least one of these types of holiday scams last year and the consequences can be dire.
When shopping online during the holiday season—or any time of year—always be wary of deals that seem too good to be true.
Being aware of how to avoid these common scams can help keep you safe throughout the holidays. Do your part to avoid becoming the scammer's next victim.
The two most prevalent of these holiday scams are non-delivery and non-payment crimes. 
Both, non-payment and non-delivery scams cost people more than $337 million. Credit card fraud accounted for another $173 million in losses. According to the Internet Crime Complaint Center's (IC3) 2021 report.
Non-Delivery Scam – a buyer pays for goods or services they find online, but those items are never received.
Non-Payment Scam – involves goods or services being shipped, but the seller is never paid.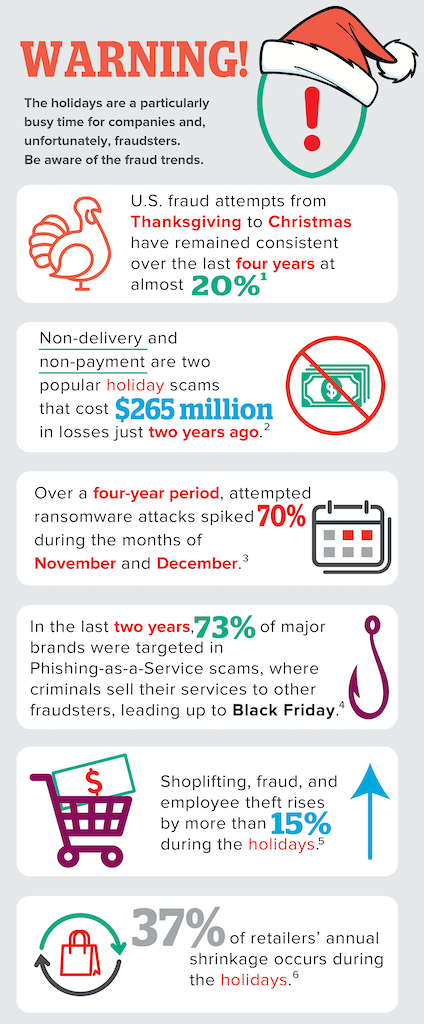 How To Avoid Online Holiday Scams
Whether you're the buyer or the seller, there are a number of ways you can protect yourself—and your wallet.
Learn to spot the warning signs of common holiday scams so that you and your family can stay safe during this time of year. 
Practice Cyber Security Awareness
Don't click any suspicious links or attachments in emails, on websites, or on social media. 
Learn The Signs of a Fake or Unsecured Website
Look for security markers, such as a padlock near the URL (which illustrates that a site has a valid security certificate and hackers can't easily steal your information). But don't blindly trust these symbols.
Warning Signs You're On A Fake Or Unsecured Website:
Poor spelling
Strange formatting
Bad design
Lack of contact information
Phishing scams and similar crimes get you to click on links and give up personal information like your:
Name
Password
Bank Account Number
In some cases, you may unknowingly download malware to your device.
Watch out for 'Vishing' Scam Phone Calls 
Scammers engage in all types of phone scams at this time of year. Never trust unsolicited phone calls.Be especially wary if a company asks you to update your password or account information.
When in doubt, hang up and call the company or agency back using their official phone number. Look up the company's phone number on your own and call the company.
Secure Your Online Accounts With Strong Passwords & MFA/2FA
Stealing passwords remains a popular way for criminals to gain unauthorized access. Choosing a strong and complex password makes it harder for hackers to guess it.
Consider using a password manager, as they can store, generate, and even apply your passwords. Making it easy to have different passwords for each account all the while removing the need to remember so many.
You should also have multi-factor authentication enabled to ensure the access to your accounts and the precious data contained within them is more secure and not prone to accidental or deliberate attempts to breach them.
Using Strong Passwords & Password Managers: https://www.bvainc.com/2022/10/17/sophos-cyber-security-awareness-tip-2-strong-passwords/
How To Enable Multi-Factor Authentication (MFA): https://www.bvainc.com/2022/10/12/sophos-cyber-security-awareness-tip-1-multi-factor-mfa/
Know Who You're Buying From Or Selling To
Check each website's URL to make sure it's legitimate and secure. Don't share information with unfamiliar companies or websites. 
A site you're buying from should have https in the web address. If it doesn't, don't enter your information on that site. 
If you click on a link and end up on an unfamiliar website, don't enter your passwords or sensitive information.
If you want to contact a business, type their web address directly into your device's search bar to make sure you go to the company's official website.
If you're purchasing from a company for the first time, do your research and check reviews before shopping.
Verify the legitimacy of a buyer or seller before moving forward with a purchase.
If you're using an online marketplace or auction website, check their feedback rating.
Be wary of buyers and sellers with mostly unfavorable feedback ratings or no ratings at all.
Avoid sellers who act as authorized dealers or factory representatives of popular items in countries where there would be no such deals.
Be wary of sellers who post an auction or advertisement as if they reside in the U.S., then respond to questions by stating they are out of the country on business, family emergency, or similar reasons.
Avoid buyers who request their purchase be shipped using a certain method to avoid customs or taxes inside another country.
Search the company's name on the BBB's Scam Tracker website as well as Reddit, and look for complaints or warnings about scams. 
Be Careful How You Pay
Avoid paying for items with pre-paid gift cards and only buy gift cards from trusted vendors.
In these scams, a seller will ask you to send them a gift card number and PIN. Instead of using that gift card for your payment, the scammer will steal the funds, and you'll never receive your item. 
Avoid purchasing gift cards from auction sites. Instead, buy them directly from a reputable vendor and make sure toheck that the card details are still fully obscured and there is no damage to the card.
Use a credit cards when shopping online and check your bank statements regularly.
Debit cards don't offer the same level of protection against fraudulent card use as credit cards.
If someone scams you using your credit card numbers, you have a better chance of getting your money back.
Never wire money directly to a seller. 
If you see a suspicious transaction, contact your credit card company to dispute the charge.
During the holidays, it's easy to let money flow in and out of your accounts without paying much attention. Check your accounts regularly for suspicious activity.
Monitor The Shipping Process
Always get tracking numbers for items you buy online, so you can make sure they have been shipped and can follow the delivery process.
Be suspect of any credit card purchases where the address of the cardholder does not match the shipping address when you are selling.
Always receive the cardholder's authorization before shipping any products.
Were You Scammed This Holiday Season?
If you think you've been the victim of a holiday shopping scam, acting fast can make a big difference.
With a quick response, you can limit the damage on your accounts, increase the chances of retrieving your money, and potentially aid police in catching the perpetrator. 
If You're A Victim, Follow These Four Crucial Steps:
Even if you simply encounter a scam, the FTC encourages you to report it to help others avoid becoming a victim. 
More Resources:
Resources on charitable organizations, including ratings, reviews and financial information.
The holidays are a time for cheer and getting together with people you love. Don't let scammers spoil your holiday season by defrauding you or stealing your identity. 
We hope you'll enjoy the holidays with strong cyber security, and without the stress of dealing with fraud. 
Don't let a good deal cloud your judgment. Stay skeptical and stay safe. If a deal seems too good to be true, it probably is. 
The best reason for improving your cyber security during the holiday season is that you will be improving your cyber security for the rest of the year, and will encourage you to keep on improving through 2023 and beyond.