Gmail is used by millions of people around the globe. As of July, 28.13% of people use Gmail as their primary email client. Regularly, users have to send sensitive information to others. 
A few years back Google added a nice feature to Gmail called Confidential Mode that helps protect sensitive information from authorized access.
With Confidential Mode, you can set an expiration date and a password for messages and even revoke access any time you choose. When a recipient receives a confidential message, they cannot forward, copy, print, or download the message.
The one caveat to Confidential Mode is that there's no way of stopping users from taking screenshots of those confidential emails and then sending those images to other people. So, it's not perfect, but it is a step in the right direction.
The only thing you'll need to use Confidential Mode is a Gmail account on either the web-based Gmail client or the mobile app (it works on Android and iOS).
How to send an email in Confidential Mode
1. Open Gmail
Open your web browser, head to Gmail, and log in.
2. Compose an email
Click Compose to open the Gmail compose window. At the bottom of that window, click the padlock-and-clock icon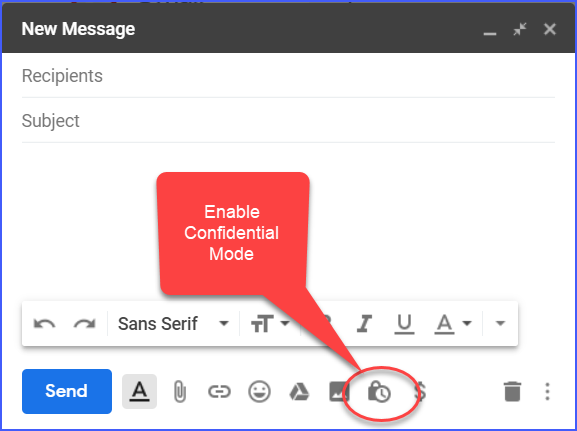 3. Configure the Confidential Mode settings
In the resulting pop-up, click the Expiration drop-down and select one day, one week, one month, three months, or five years.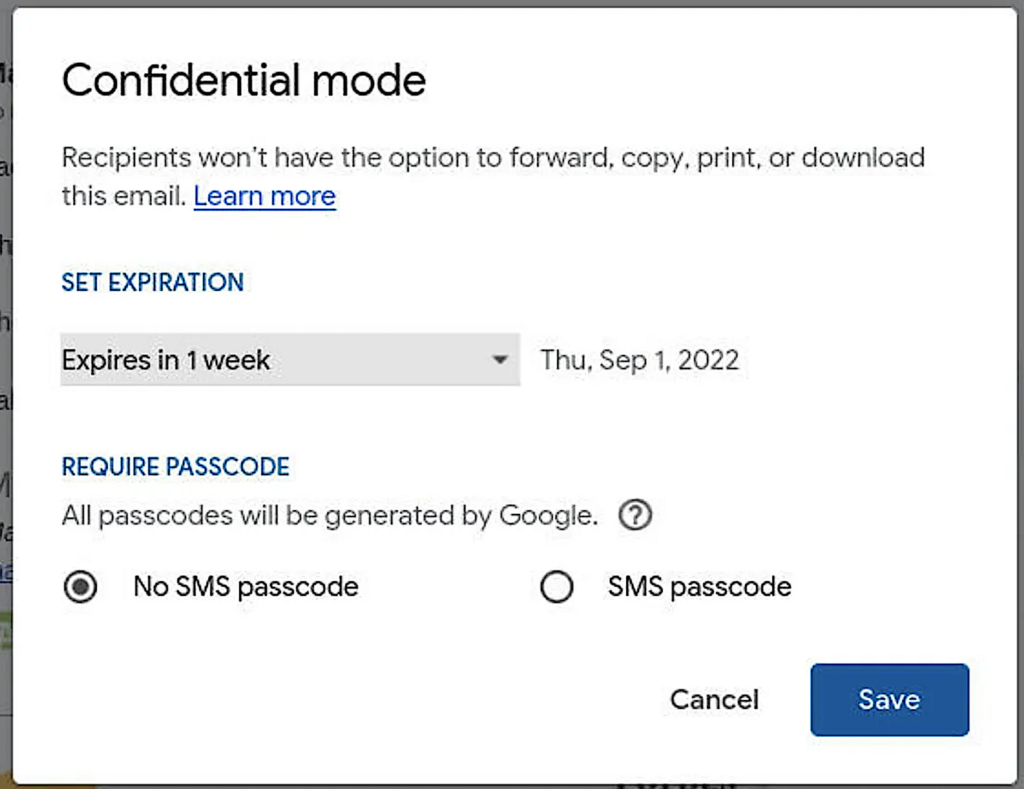 If you want to add a passcode, click SMS passcode and click Save, which will return you to the Compose window.
4. Compose and send your email
Compose the email as you would normally and then click Send. This will bring up another pop-up, where you'll be asked to type a phone number for the recipient.
Click Send and your email message is off on its mission!
The recipient will receive an email with a link to view its contents. When they click the link, a new web browser page will open where they'll need to click a link to be sent the passcode. Once they have the passcode, they enter it in the browser pop-up and click SUBMIT, and they can then view the message. 
No matter what type of email account you send the Confidential Mode message to, the recipient will have to open it in a web browser and the content is displayed in a way that they cannot do anything with it other than read it.
Consider us your technical ninjas, your trusted partner to maximize your information technology and long-term success. We work hard to keep personal and business information safe from current and future threats.
Our custom IT services and solutions help businesses modernize processes, accelerate efficient workflows, strengthen security, defend data, and increase profitability.
Without proper information technology operations and contingency plans in place, you could be left to deal with catastrophic consequences.
Take control over your IT before something bad happens, Schedule a FREE Technical Assessment with us today!
We'll come onsite to assess your current technology environment to find any issues that are costing your business in order to provide you with the best technical solutions customized for you.