Holiday Cyber Security Tips To Enhance Your Online Safety
The holidays are a busy time of year for cyber criminals trying to take advantage of you. Follow the tips & resources in this blog to protect your valuable information when online shopping and beyond.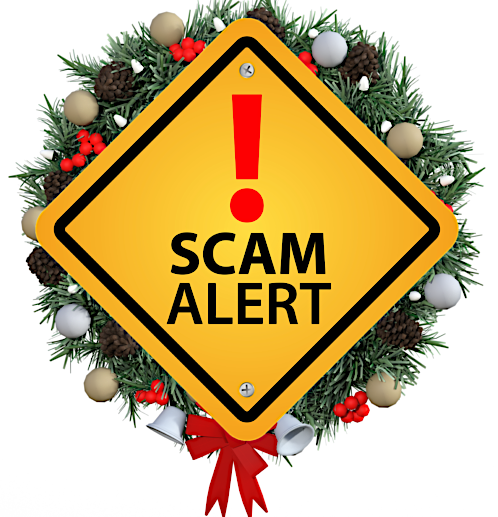 The holidays can be hectic, with many buying gifts online, making travel arrangements and wanting to give back to charitable organizations.
Scammers can access and drain your bank account, run up debts in your name, or commit other fraudulent activities. In the worst case scenario, you could even become the victim of identity theft. 
The scary truth is that nearly 75% of Americans experienced at least one type of holiday scam last year and if you fall victim, the consequences can be dire.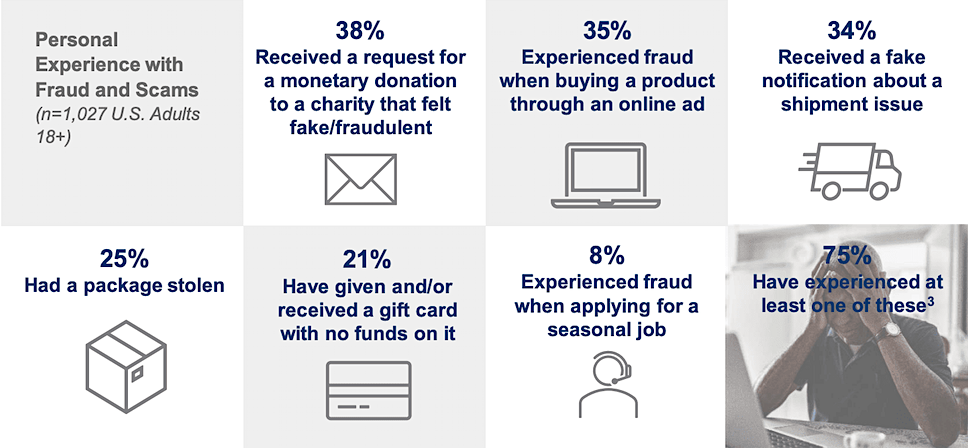 Most consumers plan to use their smartphone or tablet to research or make a purchases this holiday season.
Follow these simple cybersecurity tips and practices before and while shopping online.
Ensure Your Devices Are Up To Date
A clean machine is needed before picking out that perfect gift, be sure that all internet-connected devices ‒ including PCs, smartphones and tablets are free from malware and infections by running only the most current versions of software, web browsers and other apps.
Use Secure Wi-Fi
Using free public Wi-Fi to shop online while at your favorite coffee shop is tremendously convenient, but it is not cyber safe. Don't make purchases while connected to public Wi-Fi; instead use a virtual private network (VPN) or your phone as a hotspot.
Lock Down Account Logins 
Create long and unique passphrases for all accounts and use multi-factor authentication wherever possible. Multi-factor authentication will fortify your online accounts by enabling the strongest authentication tools available, such as biometrics or a unique one-timecode sent to your phone or mobile device.
Resist Too-Good-To-Be-True Offers
No matter how tempting they might be. Buy only from trusted and established online retailers and avoid websites of retailers you've never heard of.
Think Before You Click
Pay attention to emails you receive. Don't open emails from unknown senders or click on links in suspicious messages.
Know How To Shop Securely
Not only should you make sure your internet connection is secure. Check to make sure you're shopping on a site that uses SSL protection.
The easiest way to tell is to check your browser's address bar. Look for https is the URL. Sites without the s are not safe to submit payment information or other personal details.
Pay Wisely
Use a credit card or pre-paid debit card instead of a debit card linked to your bank account. Or, use a reliable, established third-party payment service, such as Google Pay, Apple Pay or PayPal.
Monitor Your Accounts
Check your online financial accounts regularly for suspicious spending. Take advantage of text and email alerting services that many banks and credit card companies now offer.
Online thieves know the holidays spark the desire to give back, making charity donations a hot target.
First Do Your Research 
Never feel pressured to give on the spot. Visit the website of the Internal Revenue Service's website to learn more about what types of organizations can get tax-deductible donations.
Utilize these other online resources to learn about charities and how they spend the money they receive:
Ignore Unsolicited Requests
Be wary of emails and phone calls asking for donations, especially from organizations unfamiliar to you. If you want to donate, visit their websites directly or call to donate.
Think Before You Just Pay
Never wire money or send cash. When writing a check, make it payable to the organization or pay via credit card. If you donate online, make sure the website is secure by looking for the s in https at the beginning of the URL.
Doublecheck the website. Check website URLs carefully since cybercriminals often create websites and names that are very similar to legitimate, reputable organizations. Check the spelling of the organization's name and the URL very closely for discrepancies.
The holidays are a time for cheer and getting together with people you love. Don't let scammers spoil your holiday season by defrauding you or stealing your identity. 
We hope you'll enjoy the holidays with strong cyber security, and without the stress of dealing with fraud. 
Don't let a good deal cloud your judgment. Stay skeptical and stay safe. If a deal seems too good to be true, it probably is. 
The best reason for improving your cyber security during the holiday season is that you will be improving your cyber security for the rest of the year, and will encourage you to keep on improving through 2023 and beyond.