How Top VPN Services Compare: Why You Need A VPN
Whether you work from a traditional office, from your home, iPhone, or on the road, a VPN is one of the best ways to protect yourself from data breaches on the internet, especially when using public Wi-Fi networks.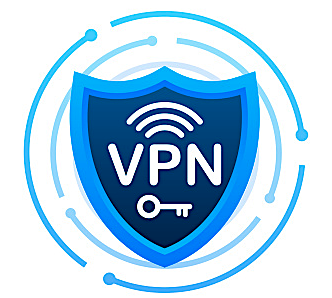 VPN is an acronym for Virtual Private Network, these services allow users to browse the internet privately, and securely connect to open or public Wi-Fi networks.
VPNs give users the ability to change their virtual location by redirecting the connection through one of its servers located around the world.
However, the problem with the internet is that It's inherently insecure leaving any internet user vulnerable to cyberattacks. 
What Does A VPN Do?
A VPN creates a private tunnel over the open internet, that's between your computing device and the VPN provider's data center.
A VPN will encrypt all of your traffic, so you're hidden from hackers, your internet service provider, and governments.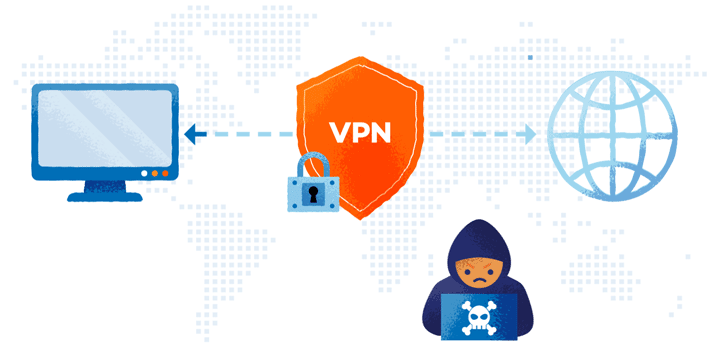 Fundamentally, most VPNs (virtual private networks) provide two services:  
Encrypting your data between two points  
Hide the IP address where you're located 
VPNs are useful in unblocking geo-restricted content and can be a vital tool for accessing information in countries with repressive governments.
VPNs are powerful and important for anyone that wants to maintain a high level of safety and privacy online.
Many consumers also find streaming VPN features compelling. In some cases, and with legality, users can spoof their region of origin to get access to streaming media and sports blacked out from their home.
Top VPN Services
These top VPN solutions focus on the number of server locations, level of encryption, and compatibility with phones, computers, and TVs, to determine a No. 1 overall. Plus, we tell you the free VPNs worth trying.
Best VPN Overall
ExpressVPN is one of the most popular VPN providers out there, offering a wide range of platforms and protocols. 
Pros
+ Fast and reliable connection 
+ Works on tons of platforms 
+ Transparent privacy policy  
Cons
– More expensive than many competitors
– Only 5 simultaneous connections
ExpressVPN Features: 
Simultaneous Connections: 5 or unlimited with the router app
Kill Switch: Yes
Speed: speedy and consistent connection
Logging: No browsing logs, some connection logs
Countries: 94  
Trial/MBG: 30 days
Platforms include(see the full list here):
Windows
MacOS
iOS
Android
Chromebook
Kindle Fire
Linux
Routers
Amazon Fire TV and Fire Stick
Android TV
Chromecast with Google TV
You can also manually set up ExpressVPN to work with some gaming consoles (Xbox, PlayStation, and Nintendo Switch) and TVs (Apple TV, Roku, etc.) that do not support its app.
ExpressVPN is very upfront and transparent about the information they collect:
Does Not Log:
Does Log:
– Browsing history
– IP address
– Traffic destination
– Info about how the service is used
– Amount of data transferred
– Dates connected to the VPN (not times)
– Location of the VPN server
What Is The Best VPN Service?
We found the best VPN is ExpressVPN. It offers a wide range of platforms, great performance, and has server locations in an exceptionally high number of countries.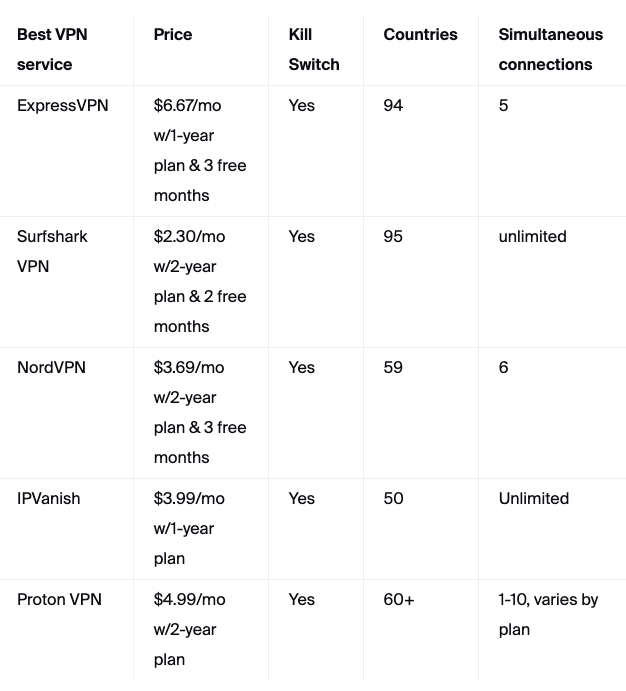 Which Is The Right VPN For You?
Tips to help you evaluate a VPN service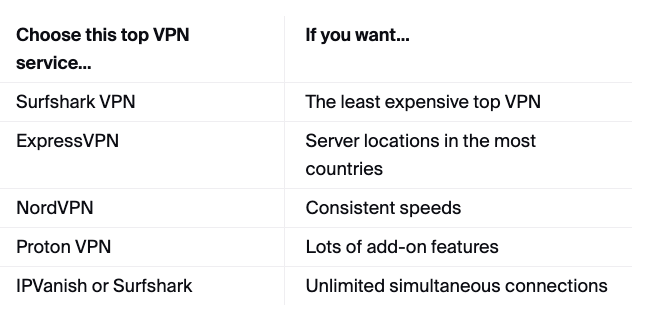 Best Open Source VPN
This VPN service was focused on creating encrypted email and VPN communications with the idea of protecting the communication of activists and journalists.
They offer a strong approach to security, layering strong protocols on top of perfect forward secrecy on top of strong encryption.
All apps are open source, and the company reports that they are independently audited. 
Pros
+ Free VPN plan (for a single connection) 
+ Lots of extra add-ons are available
Cons
– Only the most expensive plan unlocks streaming, P2P, and Tor over VPN
Proton VPN Features:
Simultaneous Connections: Up to 10, depending on the plan
Kill Switch: Yes, and an always-on VPN, which attempts to restore VPN service if it's dropped mid-communication
Logging: None, except billing data
Countries: 60+
Servers: 1,700+
Trial/MBG: 30 day
Platforms: 
Windows
MacOS
iOS
Android
Linux
Routers
Android TV
Proton VPN recently announced the development of a new VPN protocol it developed, called Stealth.
This protocol is designed to bypass internet censorship and VPN blocks by making your VPN traffic look like a normal connection.
It is built differently than most popular VPN protocols, which gives it a unique advantage in avoiding internet filters.
They offer a very generous free VPN service, allowing one machine to connect at medium speed, but there doesn't appear to be any limit to the amount of data used.
What Is The Best VPN Service?
We found the best VPN is ExpressVPN. It offers a wide range of platforms, great performance, and has server locations in an exceptionally high number of countries.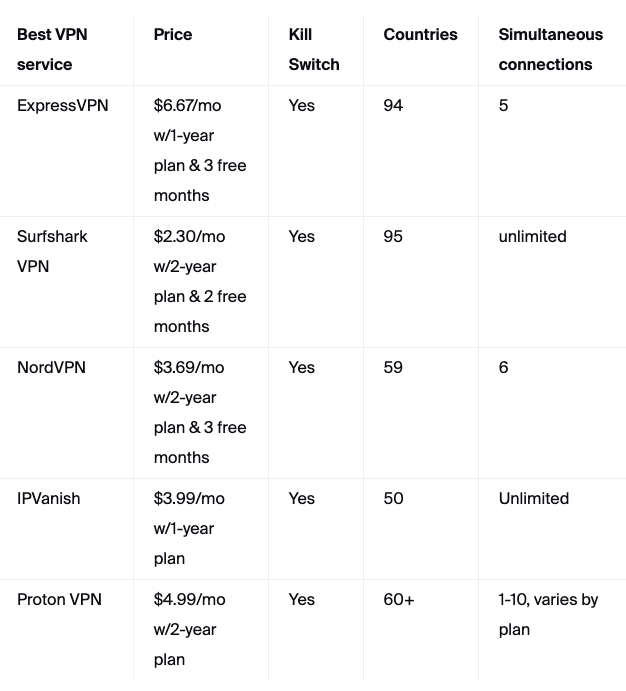 Which Is The Right VPN For You?
Tips to help you evaluate a VPN service